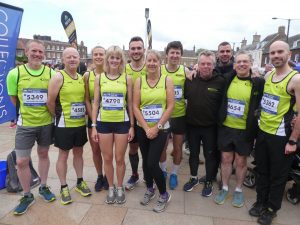 There were some excellent results all round today with 7 personal best times, 3 running the distance for the first time for BVH and two prize winners.
Michael Eccles, running his first 10k for BVH, finished 6th overall and 4th senior man in a diamond standard 34.00.
Jack Noble ran a gold standard pb of 36.56. 
Jake Stearman who is getting back to his best and looking stong ran a gold standard pb of 37.30.
Arron Coe who was a bit under the weather still managed a gold standard pb of 39.19.
Phil Hurr a bit tired from his world duathlon champs the previous week ran his first 10k for the club finishing in an excellent platinum standard 39.28 which gave him the first 60+ award.
Paul Ward broke 40 mins for the first time running a gold standard 39.42.
Fenella Sunaway who said she wasn't feeling it today so a little motivatioinal talk was needed which seemed to work as she finished 3rd lady overall in a gold standard pb of 40.34 and £100.00 better off.
Autumn Hales, also a bit under the weather, ran an amazing 4 minute silver standard pb of 40.56.
Jonathan Edwards was one of the happiest today with his 55+ age record and a gold standard pb of 44.58.
Patrick Nelson running his first ever 10k finished strongly in a bronze standard 47.29.
Jonathan Foot
also improved his 60+ age record time running a gold standard 50.49.
Sally Porter also improved her 55+ age record time to run 57.13.
Geoff Porter was more than happy to get round in 1.10.54 without stopping but I think he may have a few aches and pains tomorrow. A massage may be needed!