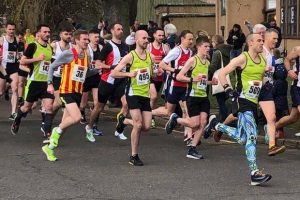 It was clear from looking at the weather forecast earlier in the week, that this year's Coltishall Jaguar's Mad March Hare 10K was going to be a breezy one and it didn't disappoint!
There were 8 BVH team members on the start line, ready to take on the flat course around the ex-RAF Coltishall base, which, for the first time, was sold out.
The first couple of kilometres, runners had the wind at their backs but as they turned and crossed the runway, they started to pick up the keen wind going across them. But it was from the start of 3K when it really started to get in their faces, with seemingly nowhere to hide, no matter how many people were in front of them. And after passing behind race HQ, they did it all again.
Everyone was enthusiatically cheered by marshals right the way around the course, with cow bells and music – I hope they were all wrapped up warm in the cold! There were plenty of supporters on the run into the finish to encourage everyone to push right to the end. 
It was tough day to run on a flat, open airfield and there can't have been many PBs out there, but Laurie, after a quick glance at his watch as he approached the line, pushed hard in those last metres for his first sub-40m 10K time! 
The final roll of BVH finishers was:
P4: Simon Partridge: 37m24s (first senior male prize)
P8: Jack Noble: 38m13s (first road 10K for BVH and third senior male)
P18: Laurie Woods: 39m50s (PB by 57s and first junior male)
P37: Arron Coe: 41m40s
P204: Sarah Bird: – 50m15s
P210: Gail Hardingham: 50m31s (2nd 60-64 female)
P282: Simon Alcock: 53m14s (first 10K for BVH)
P512: Andrew Bird: 1hr03m27s
Simon, Jack and Arron also walked away with the first senior male team prize.
Well done everyone and thanks Becky for being on the camera this morning.